Manufacturing
Enchlor Inc. is the direct manufacturer of equipment for our own products, as well as for many other chlorination, disinfection, and treatment companies in the industry. Our committment is to providing you with precision machining, fabrication and assemblies, in a timely and cost-effective manner. We pledge the highest level of quality in all areas of manufacturing.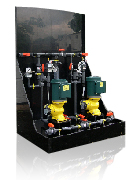 We use CNC and manual machinery to better serve both short- and long-run projects in a wide variety of materials including:

• All types of steels including carbon, alloy and stainless steels and aluminum
• Specialty metals including; Hastalloy, Silver, Gold, Tantalum, Monel
• All plastics including; PVC, ABS, CPVC, Teflon

And our services don't stop with machining. We also offer:
• Complete assembly service
• Metal plating
• Plastic welding
• Anodizing
• Painting / Powder coating

Enchlor systems are designed and manufactured by our staff of chemical feed experts. All pumps and piping are plumbed for easy removal and isolation of components for maintenance and repair. We have engineered our suction piping to eliminate entrained gas from the piping to eliminate emergency requirements to re-prime pumps. Our systems offer built-in containment to meet state and federal requirements. Thermally welded plastics are selected with your chemical application in mind. User-friendly control modes for flow paced, set point and PID are available. Splashguards and enclosed units with clear PVC doors are also available.

Let us share our industry experience to enhance your products.